Preporodna dvorana palače Narodnog doma
"MEDITERRÁNEO" Concert by Flam-a duo
Zagreb | Preporodna dvorana palače Narodnog doma
18.03.2023 19:00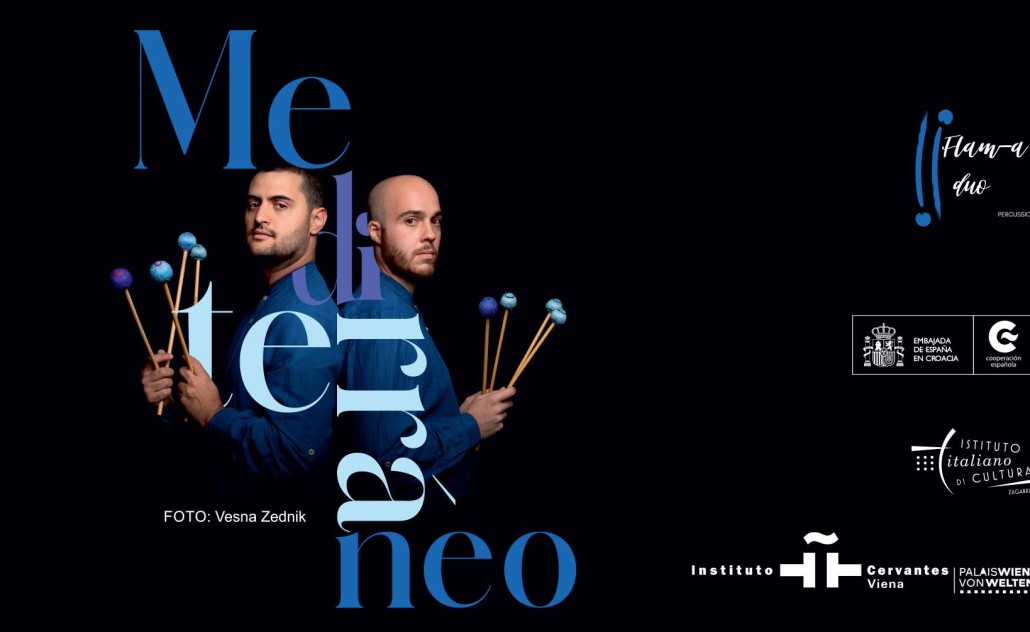 The Embassy of Spain and the Italian Institute of Culture in Croatia have the pleasure of inviting you to the concert of the Italian-Spanish duo:
Francesco Mazzoleni and Luis Camacho Montealegre , two young talents who transfer the warm sound of the marimba and vibraphone to a classical repertoire.
Program:
Francesco Mazzoleni: Bouncing Liquid. (world premiere)
Joaquín Turina: Álbum de viaje.
Antonio Bellandi: Tre colori. (world premiere)
Enrique Granados: Danzas españolas.
S. Mazzoleni – G. Ephrikian: Divertimento per marimba e vibrafono. (world premiere)
Antonio Soler – Fandango.
Flam-a Duo is a percussion duo formed by Francesco Mazzoleni (Treviso, Italy) and Luis Camacho Montealegre (Alcázar de San Juan, Spain), who met in 2016 during their studies at Zagreb Music Academy under the mentorship of Professors Igor Lešnik and Ivana Kuljerić Bilić.
Since its inception, Flam-a Duo has placed great emphasis on communication, both between themselves and with the audience. Using musical performance as a medium to tell stories, the duo's work is based on intuition and a strong emotional connection to their chosen repertoire. For this duo, the essence of chamber music is to achieve the maximum possible synergy between the performers and the joint investigation of all the elements that make up music: starting from the organization and expansion of a percussion duo repertoire, through the breakdown and analysis of music, sound and movement, up until the creation and transmissionof ideas and emotions during the performance.
Already in the first years of activity, the duo performed at numerous festivals and won second prizes at the IV Percuta Chamber Music Contest 2016 in Valencia and the Universal Marimba Competition in Belgium in 2017. To this day, their interest is wide and extends to all kinds of percussion instruments. They originally performed works by Croatian authors, composed especially for their duo, and were the carriers of the new MA studios promotional project, with several original video clips. In 2020 they posted a "Sunday at Soundbrick Studio" video series on their YouTube channel, featuring some of their latest arrangements for marimba and vibraphone, as well as classical compositions for the same instruments. In the spring of 2022, the renowned record company Croatia Records released the duo's debut album titled "Preludes and Fugues".
Francesco currently works as a percussionist at the Croatian Radio and Television Symphony Orchestra and Luis works as an assistant at Zagreb Music Academy.